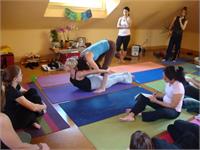 Informed Assists Friday Evening
 with 
Marni Task
, E-RYT500
Fri

day

 2/16/2018 f

rom:

 6:00 pm – 9:00 pm
🌟Spend your Friday night in an inspirational, intelligently sequenced yoga class emphasizing:
👉hip openers
👉forward bends
👉twists
⏳Then we'll take a 90 minute exploration into the world of Hands on Adjustments! 🖐🗝We'll learn some assists that will enhance the alignment and take us deeper into these postures. To finish our evening we will learn sensational shavasana assists.😊
Informed Assists & Adjustments Workshop
 with 
Marni Task
, E-RYT500
Saturday and Sunday:

 2/17/2018 – 2/18/2018 f

rom:

 9:00 am – 6:00 pm
⭐Each day will begin with an inspirational, intelligently sequenced 75 minute yoga class followed by an in depth exploration into the world of Hands on Adjustments. By touching the body and gently moving its parts in an optimally aligned way, you will have a deeper understanding of the alignment of each asana from the inside out, and through the hands on enhancements you offer others, from the outside in.✋🏻🤚🏻⭐There are many benefits to utilizing hands on adjustments throughout a class. In our fast paced culture we often go an entire day without a hug from a loved one or a friend. 🙆🏼 Being touched and held safely supports the body's natural ability to restore and renew. When we lovingly and respectfully offer a supportive touch to our students, with good alignment, the physical body, the fascia which is the connective tissue in the body, is realigned, and the parasympathetic nervous system turns on. 😌 When this happens we experience rest and relaxation. Get ready to rock relaxation into your classes and into your own practice!🤸🏻‍
👉🏼This workshop is open to the public. You do not have to be registered for our yoga teacher training in order to attend.
💸Cost: $300